Mental health is really important to me;
it's something that is a really close topic to my heart and an actual part of my daily life.
Being someone that struggles with a mental illness, it can be tough to do the most simple things that others feel are easy daily functions.
I try and share my story and use my platform to really showcase the sides of mental health and really why and how so many people struggle with it.
Many people think it's something that you can just cope with in the matter of days, but for a lot of people it's a lifelong battle.
I personally have had many "mental health relapses," if you will, and try my best to really stay strong and connect with people like myself.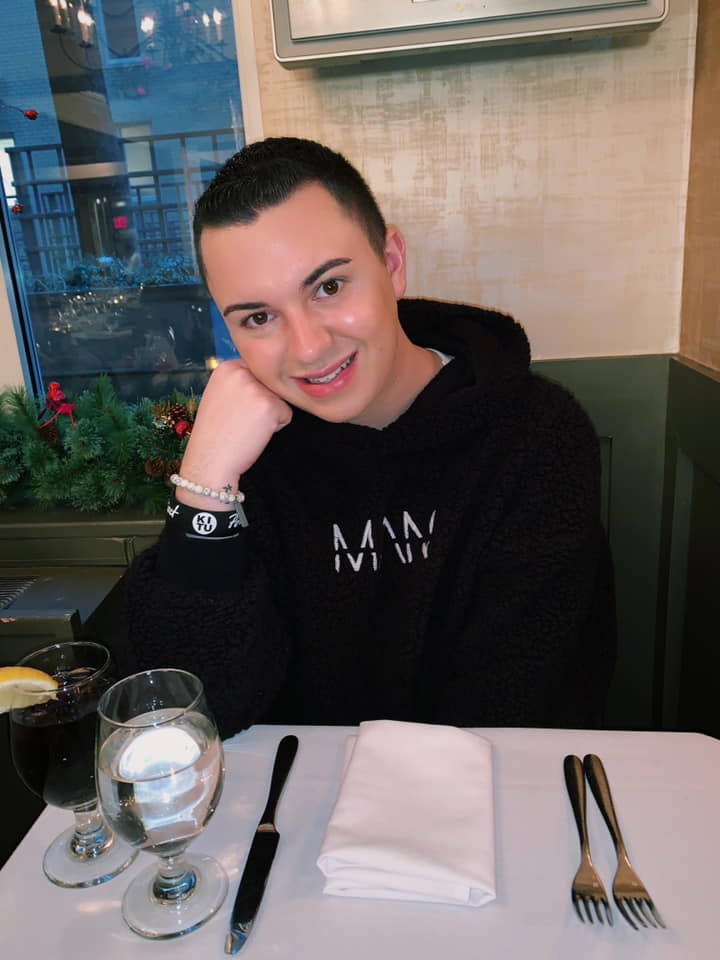 WHAT IS ONE THING YOU WISH PEOPLE KNEW ABOUT MENTAL HEALTH?
One thing I wish people knew is that mental health isn't a fad or something people speak about or deal with for attention.
I know a lot of people who say that people that share their stories or get help for mental health related issues are people who want "attention" or "sympathy," but that's not the case.
So many people struggle with mental health, even those that don't want to admit it or are scared to speak about things because of the way they'll be viewed.
A mental illness doesn't know a certain gender, race, identification, size, or anything like that;
it's something that so many people of all different backgrounds and from different places struggle with.
WHY DO YOU THINK THERE IS A STIGMA AROUND MENTAL HEALTH?
The main reason that I personally believe is that it's not talked about or taken as serious as it should be, you know?
I think that people have this mindset that just because we don't see physical pain or something like that, that it automatically makes you okay.
It would be incredible if the world as a whole would just stop saying that people who struggle with a mental illness are "crazy,"
because struggling with something that you have no control over doesn't make you crazy.
HOW DO YOU THINK INSTAGRAM'S 'HIGHLIGHT REEL' MENTALITY PLAYS A PART IN MENTAL HEALTH?
I think it plays a huge factor into a person's mental health, whether they want to admit it or not.
We all want the most likes, followers, or best filtered pictures and I feel like we let that get to our heads to often- myself included.
I used to constantly stress about the content I would post on my social media due to the fear of being judged, but I really got past that phase of it.
Now if I want to post a quote or a picture of me simply drinking coffee out of my favorite mug, I will haha.
I think we stress too much on what others will think of us and that's not okay.
It affects so many people and can define them as "popular" or "not popular," and it's sad that we've let it get that way.
I think there are so many pros and cons to social media, but if you use it the appropriate way, you will be perfect.
Don't let the amount of likes, followers, or filters of your pictures define who you are as a person.
FAVORITE ACCOUNT(S) TO FOLLOW THAT BRING AWARENESS TO MENTAL HEALTH?
I make it a rule that I only follow people/things that have a positive message, support me, uplift me, or really do something for my or the worlds well-being.
There are a ton of accounts that I follow to make me feel less alone or even some just that will make me smile.
Hannah Blum (@hannahdblum), Colleen Werner (@colleenmwerner), Project Heal (@projectheal), and Gina Susanna (@nurishandeat)
are some of my favorites that all post uplifting things that help me heal and what not.
Other people like Britney Spears (@britneyspears), Aly & AJ (@alyandaj), Ashley Tisdale (@ashleytisdale),
and Khloe Kardashian (@khloekardashian are also people that make me strive to continue being strong and such too.
They're all some of my favorite women who share great advice and really just make me smile, something that I think we all need.
FAVORITE WAY TO UNPLUG FROM SOCIAL MEDIA?
Getting off and unplugging from social media is really hard for me and it's something
I'm working really hard to be better at because my life is too consumed with it, haha.
I try to dance as much as I can because it brings me to a different world; one that I really don't have a worry or insecurity to deal with.
I also try and write poetry, take my dog for a walk, talk to friends/family, or really go outside too.
ARE THERE ANY RESOURCES YOU CAN SHARE?
When I was going through a really dark period of my life, I constantly was contacting places like
Project Heal, The Trevor Project, and really online support groups to talk with people who were/are struggling with things similar to that I am.
I belong to a few online groups still that I talk in because I still struggle to this day with a mental illness.
If I could give just one piece of advice to anyone though, it would be to keep going and not give up.
I have contemplated giving up on myself so many times, but I remind myself that I have a purpose and that everything WILL be okay.
You aren't alone and are worthy of the life that you live… just be strong, try and reach out,
and don't let anyone or anything dull your sparkle- including yourself.
David LeCours II